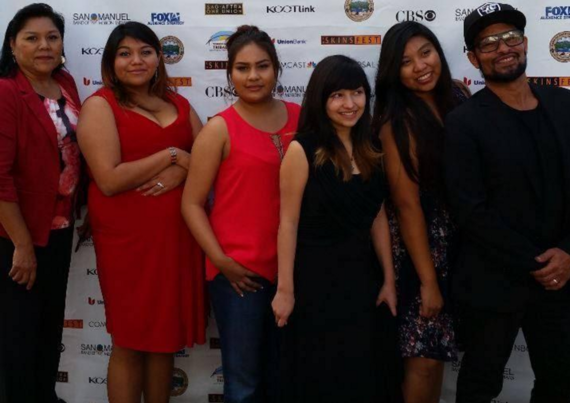 (published Dec. 10, 2015 on the Huffington Post. For the entire post, click on the link below)
"OMG! We won Best Student Film‬‬‬‬ at the LA SKINS FEST!" was the enthusiastic reaction from Beverly Santicola. Beverly is a co-executive producer of the film, "Escape," the first film ever produced by the Ute Mountain Ute Tribe (UMUT) Youth. The UMUT Youth wrote, performed, directed and produced the film in partnership with Alex Munoz, founder and creative director of Films by Youth Inside (FYI). The film first premiered in Cortez and Durango, Colorado in October, and was selected to screen at the 2015 LA SKINS FEST in Los Angeles — the biggest Native American film festival in the United States.
In the weeks leading up to LA SKINS FEST, Beverly had feverishly raised funds to allow a delegation of UMUT Youth actors to attend this special screening of their film. At the festival, lead actress Kamea Clark expressed what the experience meant to her, "Having the opportunity to represent the Ute Mountain Youth at the LA SKINS FEST means the world to me. I never imagined something like this happening. Our film has touched people in ways I never thought it would. It's making people think twice about what they do."
"Escape", is a powerful fictional short film that draws the viewer into the struggles and suffering of Native American youth by portraying issues such as overwhelming poverty, epidemic suicide, drug use, low educational attainment and homophobia. Little of this reality is normally depicted in the media.

Click here for the whole story
To learn more about how to find your specific vocation or mission in life you may want to read my book: The Boomerang Approach.
–Reiner Lomb
www.boomerangcoach.com