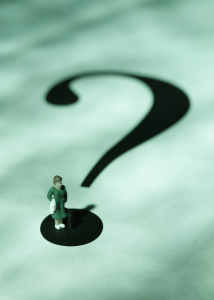 It was the summer after 9/11 when we walked the Camino de Santiago across the North of Spain, also known as "The Way." One day we were resting at a street café in Leon when a man, who was also walking the Camino, joined us at the table. The man told us that he had started his walk more than two months before in Germany. Noticing sadness in his voice, I asked him carefully, "Why do you walk the Camino?" "My wife left me," he chokingly replied. "We were married for almost 20 years and we have two teenage children, but she suddenly panicked that life would pass by without her having truly lived it." After some silence, he continued to share more details about their life together, his professional and financial successes, how he had taken care of his family financially and about his belief that his wife would not make it on her own and would probably return to him some day.
As I had listened to the man for a couple of hours, it had become evening. We'd planned to leave early the next morning, and it was time to say goodbye. I looked into his sad eyes and while we shook hands, I said, "Maybe it's time now for you to think about your own direction in life." But I wasn't sure if he understood. So I added, "Think about your own dreams and how you can follow them." The man had already begun to walk away. He turned around one more time and replied, "Maybe I'll start painting again." And before he finally left, he added with a smile, "I used to love it." That was the first time I had seen him smile. Thinking about the dream that he had ignored but still carried inside him had lightened him up.
Exactly one year after that conversation, I received an e-mail from the man. He described how he had transformed his hometown into an art town. On his website, I could see various street intersections, public places, and buildings all exhibiting art. He further wrote about his possibilities in life and expressed how happy he was, unlike the day when I met him on the Camino.
The man's message has been an important gift to me because it helped me learn:
That a person can overcome suffering and become happy again by finding purpose and passion.
By being present and asking the right question(s) I can help a person through that process.
If you are inspired by this story, you might be interested in my new book, The Boomerang Approach, available
at Amazon.com : http://www.amazon.com/gp/product/0615979769/